Your 2016 Oregon Auto Insurance Consumer Guide.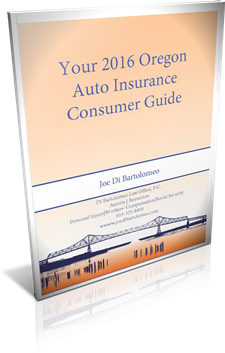 For many years, Oregon auto insurance provided only limited protection for injured motorists. Although Oregon auto policies offered medical coverage, the coverage was available for a limited amount of time. In many cases, our clients were left without options for medical care after the time limit expired.
All too often, we have represented clients who were injured at the hands of uninsured or underinsured motorists. Had they known more about what their own policy provided, they could have been better protected, but were not. In a lot of cases, even when our client had underinsured or uninsured motorist coverage, the insurance code would not allow a claim.
That will change beginning next year, but you must take certain steps to make sure that your insurance policy includes these new protections. This free guide explains the basics of Oregon auto insurance. In it, you will learn how to do the following:
How to increase the time that you can seek medical care under your own insurance policy
How to avoid facing a serious injury without enough coverage to pay medical expenses
Where to look in your Oregon auto policy to make sure that you have the coverage you need
What you need to do to ensure you have these new important protections as soon as they are available
There is no obligation. Fill out the form below, and we will send you a link to download this free report. We are not interested in selling your contact information, but want to share this important information.