Facing an Injury Claim? Find Out What You Need to Know Before Giving a Statement, Signing Forms, or Contacting a Lawyer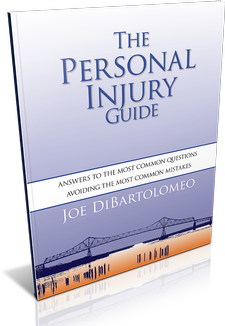 If you are facing any kind of injury claim, you may be dealing with some of the following issues:
The insurance adjuster wants to settle now, and not for much
Many people are sending many forms to sign
You thought about hiring an attorney, but really don't know if you need one
In our free e-book, Joe Di Bartolomeo shares over twenty years of experience working with accident victims to help you learn where you stand with your case. You will find out:
How and why insurance companies decide to quickly and cheaply resolve your case (page 27)
How medical bills get paid (page 11)
The most common mistakes people make handling their claim and how to avoid them (page 16)
Whether you have give the insurance adjuster a statement (page 15)
Whether you need an attorney in the first place (page 9)
Chances are you are getting a lot of different advice from a lot of different people. Although that advice is well-meaning, this book cuts to the important issues, giving you the critical information you need to know where you stand with your claim.
Ordering is easy, and there is no obligation. You are not hiring a lawyer when you order this book, you are just getting some valuable information. All we need is a first name and an e mail address. We will then send you an email with a link to the book download.
And don't worry about your privacy. We keep all contact information confidential.