The I Just Filed an Oregon Workers' Compensation Claim and Need to Know Where I Stand Guide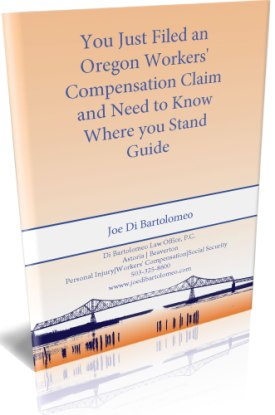 You were just injured on the job in Oregon, and you just filed your claim. Now What?
Should You Give a Recorded Statement?
The adjuster wants you to give a recorded statement. Can you get help from an attorney. Can they even do this? What questions will the adjuster ask?
The Workers' Comp. Adjuster Scheduled an "Independent" Medical Examination.
The insurer wants you to attend an appointment with an insurance company doctor. What should you expect?
You Are Disabled From Work
How do you get disability benefits while the claim is pending?
So Many Questions
These are questions we hear everyday when helping injured workers, so we put together this free consumer guide so you can know where you stand when waiting for an insurer to make a decision.
Avoid Claim Killing Mistakes
This guide will help you avoid the most common mistakes make when they file a claim for workers' compensation in Oregon.
Order Your Free Guide Today.
Complete the form below, and we will email the free guide out to you. There is no obligation, and we do not sell or distribute your contact information. It's free, and its confidential.