Subscribe To The Best Law Firm Newsletter Around!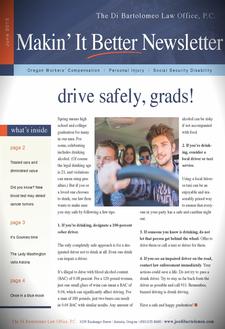 "But I will still get the newsletter, right?"
We get that question a lot when we are wrapping up a case for a client. That is because our newsletter is different. Joe Di Bartolomeo is a top rated injury and disability attorney in Oregon and Washington. He publishes The Makin' It Better Newsletter monthly.
We don't just cover legal issues. You will find stories about the places and people that make the Pacific Northwest a special place, consumer tips, fun contests, and even great recipes.
The free newsletter is mailed out monthly.
There is no obligation, and your contact information is safe with us.
So fill out the form below to start your free subscription.